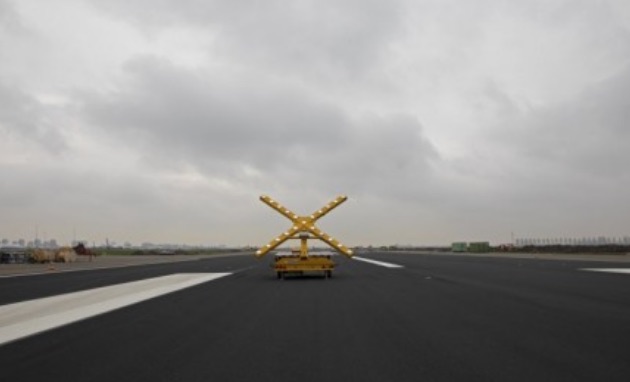 Schiphol will be carrying out routine maintenance work on the Aalsmeerbaan Runway between the morning of Monday 2nd November and the evening of Saturday 7th November. The runway will not be available for air traffic throughout the duration of these works.
Works
Every year, the Aalsmeerbaan Runway undergoes routine maintenance that involves replacing the top layer of asphalt and restoring markings where needed, cleaning and inspecting the rainwater drains, checking the cabling and electrics, and cutting the grass on surrounding fields. These works, done in conjunction with Heijmans, are carried out in various shifts. In order to ensure that the runway is not unavailable for longer than is absolutely necessary, the works go on 24 hours per day.
Adapted runway use
The Aalsmeerbaan Runway will not be available for air traffic while these works are being carried out. The unavailability of this runway during the works may lead to the Buitenveldertbaan Runway and the Zwanenburgbaan Runway (in a southerly direction) being used more frequently.
Because works are being carried out in places where the Aalsmeerbaan Runway intersects with other runways, the Kaagbaan Runway will not be in use at night (23:00 – 06:00) between Monday and Thursday. On Tuesday and Wednesday night, the Buitenveldertbaan Runway will also be unavailable. The Polderbaan Runway and Zwanenburgbaan Runway may therefore be deployed at night on these days.
Recommended for you...