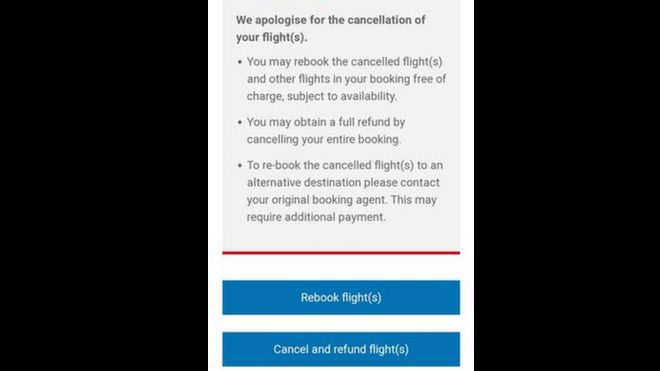 Photo Lesley Anderson
A number of British Airways customers are going public over a refund system designed to recompense people for cancelled is ignoring their wishes and issuing vouchers for future travel automatically.
The latest to join a grown number of disgruntled travellers is Lesley Anderson who told the BBC that a voucher was issued "automatically" after she selected "Cancel and refund flight". She said she was refused a refund for a cancelled flight, that was even after she'd sent screenshots of the airline's website showing the option of a voucher was not even mentioned.
According to the BBC, Ms Anderson was going to be flying from Glasgow to London as part of a birthday treat, but coronavirus disruption caused the flights to be cancelled by British Airways. She was sent a link to manager her booking by the airline, which showed her two main options: to rebook the cancelled flights "free of charge" or to get a "full refund" by cancelling the entire booking.
"I obviously chose the 'Cancel and refund flights' option, which then took me to the British Airways webpage that said, 'Thanks for completing your travel voucher application.' I was a bit gobsmacked."
"I definitely did not fill in any information about my name, my flights. I did not click submit, nothing like that at all. It just took me straight to that page and it issued me automatically with a voucher." she recounts. Despite sending the
screenshots showing that vouchers were not even listed as an option, BA customer service staff informed her she'd had accepted vouchers and they would not be exchanged for a cash refund.
The airline has affirmed there was "no way" that vouchers can be issued without customers requesting them, however, a growing number of customers are reporting similar instances of automatic issuing of vouchers.
Recommended for you...