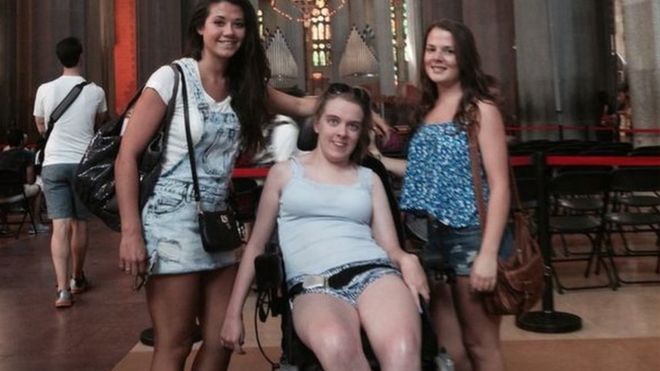 The stress of air travel has increased this summer, with long queues reported across Europe because of tighter security and immigration checks.
But for one group of passengers - those who use wheelchairs - flying often turns into an upsetting and nerve-wracking experience, whatever the time of year.
From problems getting on the plane, to difficulties checking in equipment, and even being unable to go to the toilet onboard, there is always something to worry about. But there is one issue that can really ruin a holiday: damage to the wheelchairs which are our mobility lifelines.
My wheelchair has been damaged multiple times, including on a recent EasyJet flight to Portugal at the end of July. So I set out to uncover the scale of the problem. I use a powerchair to get around; my cerebral palsy means my arms are too weak to propel a manual wheelchair. The chair is custom-built, heavy and extremely expensive.
When I fly, my chair goes in the hold. On two successive trips in 2013, to Dublin and Barcelona, it came off the flight home making a foreboding rattling sound. A few weeks later, it stopped working. The repairs were costly and left me stuck in my university room, entirely reliant on others.
If I was going to continue travelling, I needed another plan. I thought I'd solved the problem when I invested in another chair, which is specifically designed for travelling by air. The expensive piece of kit consists of a manual chair and an attachable motor.
When flying, the motor can be stored in a suitcase. The idea is that breakable parts are kept safe.
And yet, when I came to reassemble my chair after I arrived in Portugal last week, the motor had been bent out of shape. Five of my friends could not reattach it to the manual frame.
(EasyJet says it is "very rare" for its ground handling companies to damage wheelchairs. When it does happen, they say, they arrange for repairs and a replacement chair. The airline also points out its customer satisfaction amongst passengers with reduced mobility was 84% in 2016).
I spent the whole holiday in Portugal unable to move independently more than a few metres. And it turns out that my experience is far from unique.